Keep things neat, give yourself a treat or display unexpected art. These ideas will have you looking at your trays with new eyes.  Here's a great article reposted from Houzz.
I think of a tray as one of those things in a home that has a lot of stories to tell. A tray has been around; it has seen most rooms in a house. It has lots of experience with meeting utilitarian demands as well as aesthetic ones. Trays have many different looks: modern, traditional, rustic and casual. Just like many people, trays can change their looks to suit the occasion.
A tray I've had forever sits on my bathroom counter. It has come to symbolize a special place. It holds my perfume and a Limoges box that contains all of my children's baby teeth. Every tooth has a story, and it only seems fitting to keep the box on that tray. Some of these ideas may seem lofty; others just practical. I'm sure there will be one that feels like a fit for you.
Yes, after a long week of working, cleaning and laundry, and driving kids around town, you deserve breakfast in bed. Who wouldn't like warm tea and a slice of cake served on a beautiful tray in bed? Remember, it all starts with a beautiful tray. The rest of the story is up to you. Here's hoping your significant other reads this ideabook.
After a long day of gardening in the yard, you might want to try this ingenious use of a tray. Muddy boots find a home on this pebble-filled tray where they can dry out, and the dirt stays contained. Now get inside where that cup of warm tea is waiting for you.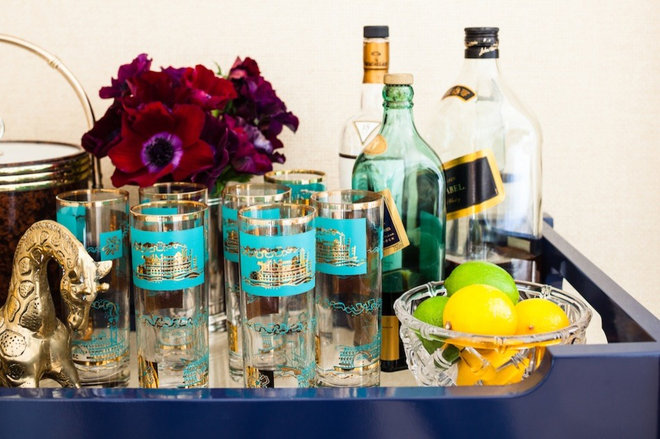 Having a swanky dinner party with some fabulous friends? Display beautiful glasses and other bar essentials out in the open on a large tray. A tray can serve as a temporary bar for those who don't want liquor out all the time.
Have the best of both worlds in any sitting room. An ottoman provides that very comfortable surface for throwing your feet up, while a tray on that ottoman serves as a coffee table. Display fresh flowers and conversation-inducing accessories.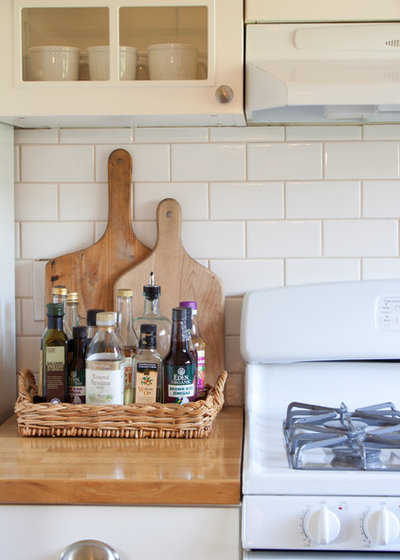 The gourmet food that comes from the kitchen happens because you have culinary talent and you're organized. Keep cooking essentials neat and tidy with a tray used for storage right beside the stove. No need to fuss with putting it all away — this look is tray chic for your countertops.
Here's a fun tip for a little bedtime variety. Place a beautiful tray on your nightstand, add a beautiful lamp and fresh garden roses for some peaceful, homegrown aromatherapy. Three roses that are wonderfully fragrant are Mister Lincoln (red), Yves Piaget (deep pink) and Just Joey (apricot).
Are you a tray collector? Don't let your collection get dusty in your cabinets. Display trays in a kitchen or breakfast room with pride. Tell friends all the stories behind each tray. Did you score big at an estate sale? Did you stumble upon a gem on eBay? Tell the tales with a tray display.
No need to let all your jewels lie around where they can be lost. Use a tray to hold boxes or bowls where you can store all your treasured pieces. Line the bottom with wallpaper or fabric to coordinate with your bedroom's palette.
Utility is a part of life. If you are short on cabinet space, use a tray to store kitchen essentials like bowls and flatware. There are no rules for storing and displaying things we use daily; make your own rules and use what you have to make your routine work.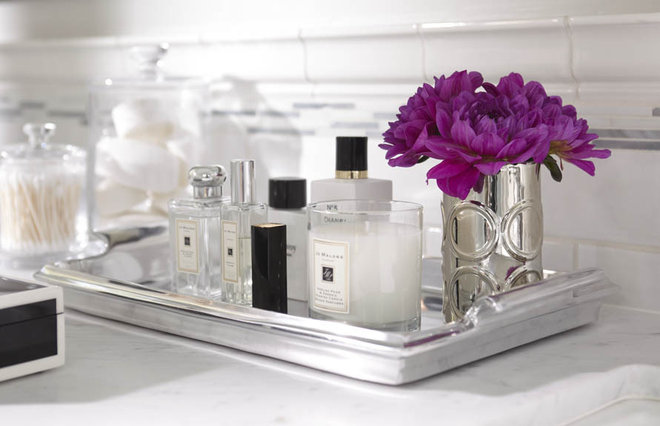 I wish I could tell you my bathroom is always this pristine, but that would really be telling a tale. This tray is similar to the one I use for my perfume and the special container that holds all my children's baby teeth, however. When I get my act together, I add fresh flowers that start my morning with a kiss of color.
With the popularity of soaking tubs came the tub tray. Use it to hold soap, a candle or a book. I like a teak tub tray that contrasts the clean white of the tub. With a tray holding all your bath necessities, soak awhile and finish that book.
Not even on a good day has my desk ever looked this tidy, but a girl can dream. Trays on a desk can organize paperwork or things you want to look at while you work. Keep desk basics, like a cup of pens, a tape dispenser and a stapler, from shifting about with small trays.
Have a beautiful, heirloom-worthy tray that brings good memories and tales of years gone by? Put it on your wall — yep, hang it wherever you want to. It's your party, and you can tray if you want to.
A nursery is a great place for a tray, since it can be washed easily. Use it to hold favorite books and toys.
If you have a butler's pantry, leave your tray out for easy access. You're more likely to use it if you can see it.Some trays are just beautiful to look at and recall memories of family and gatherings. If you have a tray that has been handed down through the family, consider having it engraved with initials or a family crest.
Article reposted from Houzz
Written by Charmean Neithart December 23, 2013